We are professionals with a broad range of experience in technology and functional areas and are dedicated to the best interests of our clients. We have backgrounds ranging from systems analysis and programming to management consulting and project leadership. Our professional's average more than 10 years of experience, each with unique expertise and skills, but share common values of respect, integrity and reliability.
Sander serves as our President and CEO since 2010 and is responsible for the overall management of the firm; financial management, operations, project oversight, marketing, strategy, culture, human resources, compliance, sales, public relations, and client relations. He has over 25 years of experience in the IT industry including 15+ years in Alaska. He has a Bachelor of Science in Business Administration from the Netherlands, where he started his IT career in the high-tech semiconductor world. He has worked for leading companies including the current largest supplier in the world of photolithography systems for the semiconductor industry ASML,  the printing and copying company Océ, and the IT Consulting company CIBER. His broad, international experience in the fields of engineering, transportation, administration, health care and fisheries has given him a solid understanding of professional IT services.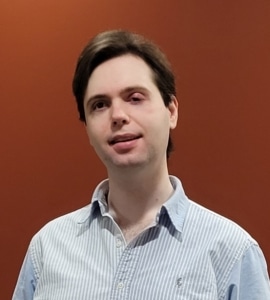 Brin has over ten years of experience in programming and system architecture. With a background in mathematics and a focus on algorithms and business processes, he believes that the right tools can change how we interact with the world. Brin works primarily in Javascript, C#, and SQL with an emphasis on web design and APIs. He's worked on accounting suites, crime tracking databases, staff tracking applications, and other critical line of business applications from concept stage and through major upgrades.
Chris Letterman is the Principal Cyber Security at Wostmann Associates providing help to clients across government and private sector. Prior to his current role, Chris served as the Chief Information Security Officer for the State of Alaska from 2013-2017 which he refers to as the pinnacle of his public-sector career. Chris got started in technology attending the University of Louisville and later joined the US Navy served in the Naval Security Group Command, specialized in communications security. After leaving military service Chris worked for communications companies in Alaska before joining the state in 1998. Chris served on Lieutenant Governor Ulmer's Security and Privacy committee – which was the first formal push to establish statewide information security and privacy policies. He led the state's Security Functional Workgroup and aided with the planning and establishment of the Information Security Management System (ISMS) for the Alaska Executive branch. In 2007 Chris moved to the Department of Health and Social Services to take on the challenge of formally establishing the security and privacy office which oversaw the agency's HIPAA compliance.
Chris holds CISSP, CISM, CRISC, CGEIT, CSCS, CHP, CCNA, ITIL v3, and CSM. He has appeared in Alaska Business Monthly, SC Magazine and been recognized as Tom Jarrett NASICO Scholarship winner, received multiple nominations for ISE Security Executive of the Year, and most recently finished a six month Analytic Exchange Program research project with the Office of the Director of National Intelligence and Homeland Security exploring Vulnerabilities to Healthcare Information Technology.
Claire has eight years of experience working with the Alaskan commercial fishing industry. She excels in technical writing, documentation, and providing unparalleled customer support. Her training in fine art has been channeled into a passion for good interface design and providing intuitive and appealing spaces for users. Her time spent serving the Alaskan fishing community and its federal managers have made her proficient in the Alaskan Federal Fisheries regulations and requirements. Claire has a BA of Aarts in Fine Arts from UAA, 2016. She loves to learn, enjoys synergistic teamwork and collaboration, and is adept at problem-solving.
Conor is a recent college graduate from Texas A&M University Corpus Christi with a bachelor's degree in computer science. He possesses a background in C#, ASP.net, html and CSS development with a focus on cyber security working in windows servers, and active directory as well as experience with the linux terminal.
Doug is a Senior Manager and Managing Associate with 28 years in consulting, project leadership, and business analysis in IT, finance, and public works. He is responsible for Anchorage area account management, service delivery, and staff and serves as a senior project manager and business analyst. Doug has a B.S. from Cal Poly State University Pomona, MBA from University of California Irvine, and Project Manager Professional (PMP) certification. Prior to Wostmann, he worked for consulting and software companies including RMA, Point B, PeopleSoft, and KPMG and served on over 30 projects in system implementation, product launch, process change, and others. Industry experience includes software, healthcare, consumer products, banking, oil & gas, and government. Doug is a disciplined and diplomatic professional, committed to serving with integrity and commitment. Skills include project and program management, business and data analysis, requirements documentation, business cases, coaching, mentoring, and executive communication.
Jason currently serves as a Senior Associate with Wostmann and Associates and is highly qualified in the areas of software analysis, design, development and quality assurance with over 15 years in the IT industry. His professional experience includes system architecture, Java web development, Oracle database development, and reporting and analytics. He has extensive experience with state and federal customers having developed enterprise systems and modern web and desktop interfaces for the Alaska Departments of Transportation, Administration, and Fish & Game, the National Marine Fisheries Service, and the Pacific States Marine Fisheries Commission. Jason is proficient in a variety of technologies, including Java/Java EE, .NET, C#, ASP.NET MVC, LINQ, Entity Framework, Hibernate, HTML, CSS, JavaScript, Dojo, React, Ant, Maven, Oracle WebLogic Server, JBoss/WildFly, SQL, Oracle PL/SQL, Oracle Database, SQL Server, MySQL, Postgres, and Linux, Solaris and Windows operating systems.  He holds bachelor's and master's degrees in Computer Science from the Massachusetts Institute of Technology and a J.D. from the University of Michigan Law School.
Jennifer has over 11 years of professional experience as a software developer. She has a B.S. in Computer Science, Minor in Mathematics and Art, University of Alaska Anchorage, and is a Microsoft Certified Professional Developer in ASP.NET 3.5. Jennifer has worked with many State of Alaska agencies such as DHSS, DCCED, DOL, DMV, and DEC. Her experience includes several programming languages and technologies, primarily developing web applications and reporting solutions. She has worked with the .NET framework, ASP.NET, MVC 5, WCF, Web API, SignalR, C#, VB.NET, SQL (T-SQL, PL/SQL), SQL Server, Oracle, MySQL, Entity Framework, NHibernate, LINQ, SSRS, Crystal Reports, JavaScript, AJAX, jQuery, XML, CSS, Bootstrap, HTML, Git, and TFS.
After discovering a passion for development, Luke left his previous industry and began his career as a software developer with Wostmann in 2020. He holds a Bachelor of Arts from the University of Washington in Linguistics. His projects before joining Wostmann have involved work using Java and related database technologies, as well as various Javascript frameworks including React and NodeJS.
Sara  has over 17 years of experience working with National Marine Fisheries Service (NMFS) and commercial fisheries. Sara provides customer relationship management between NMFS, NOAA Office of Law Enforcement, seafood processor, harvesters, State and International agency staff. She provides software testing, technical writing and documentation support services to NMFS and supports the mission-critical Inter-Agency Electronic Reporting System (IERS). Sara is proficient in NMFS applications, business rules and fisheries regulations. Her knowledge and experience is critical to effectively assist and train agency and industry users. She possesses an excellent ability to resolve problems, follow established protocols and maintain a high level of confidentiality.
Schuyler has 5 years of experience in software application development, DevOps, and GIS for the fisheries, transportation and non-profit sectors in Alaska. He has a Bachelor of Arts from Carleton College (Northfield, MN) in Geology. Schuyler has contributed to a variety of applications including: catch reporting tools and permit systems for National Marine Fisheries  and Alaska Dept. of Fish and Game and a database of Alaska Native placenames in Southeast Alaska for Sealaska Heritage Institute. He is an expert in open-source technologies, software craftsmanship, DevOps and location-based intelligence/GIS.
Sherry possesses 34 years of documentation and information management experience and 14 years of Public Safety communications support experience. She has an Associate Degree in Aerospace Ground Equipment Technology, an Associate Degree in Information Management and a Bachelor of Science Degree in Occupational Education with a Major in Business Administration. Sherry has been providing services for the Alaska Land Mobile Radio (ALMR) System since 2005 and initially served as the Documentation Specialist for the Project Management Office before transitioning to her current position with the Operations Management Office in 2007.  She is responsible for maintaining all records for ALMR, as well as the maintaining the web site. Sherry's career includes over 20 years of active duty service in the U.S. Air Force, 16 years of those years dedicated to information management. She retired from the Air Force in 2001 and transitioned to a civilian position with the U. S. Army Department of Public Works Environmental Department at Fort Richardson, where she worked in budgeting, directly managing contract accounts in excess of $70K and tracking status of accounts in excess of $22M. Sherry was later recruited by the Missile Defense Agency as the Protocol Officer for the Ground-Based Mid-Course Defense system at Fort Greely, where her first event was planning and hosting the ground breaking ceremony.  She continued to plan and host numerous year-round visits totaling over 2,000 distinguished visitors during her tenure.
Tom joined the IT industry with the birth of the Personal Computer giving him over 30 years of experience. Focusing primarily on microcomputer technology, he has specialized in systems development, networking, and resource management. His systems development experience has ranged from team leader and analyst in large projects to single analyst development and implementation. Tom has worked in a wide range of technologies and industries include Banking, Accounting, Manufacturing and Government(mainly fisheries). His primary areas of expertise are system analysis and project leadership. He also possesses excellent written and verbal skills.
Zara Khan has 20 years of experience in Project and Program Management, software development, and business process engineering. She has been successfully managing medium-to-large complex, multimillion-dollar software implementations since 2005. She strives to bring the voice of the customer to the planning process, setting clear expectations and providing accountability and transparency in results. Prior to joining Wostmann as a Senior Managing Associate, she built her career with companies like Boeing and Coca-Cola, often leading the organizational transformation to emerging methodologies and process improvement initiatives such as lean/agile and Business Excellence. Zara holds degrees in Computer Science and Chemical Engineering, and several certifications including Stanford Advanced Project Management (SCPM), Project Management Professional (PMP), Certified Scrum Master (CSM).
Chris Benshoof
Chris has over 10 years of experience in professional system analysis, design and implementation with a Bachelor of Science in Computer Science. As a consultant in Alaska he has served a variety of private and public sector clients in an array of projects and technologies. He has implemented rich client interfaces, designed databases, drafted analysis documents, made mobile applications for rugged remote environments and programmed hardware protocols. Frequent technologies include ASP .NET, SQL Server, Oracle, .NET Compact Framework, Java, C#, VB .NET, JavaScript and C++. Often a lead developer, he concurrently manages high level design and implementation details, client expectations, budgets and constraints, overall system architecture and low level component construction.
---
Chris Keller
Chris has extensive software engineering experience using Java, Per, C/C++, Ruby and associated productivity tools and libraries.  He is the Lead designer and programmer of a number of mission critical Web-based applications used in Alaska by Federal, State and private sector organizations. He is experienced with architecting and implementing large distributed systems using Web services and XML with multiple client types, desktop client/server systems, and Web-based thin client systems. Chris has experience with multiple SQL databases running on a variety of platforms as well as device level programming and serial data communications and longstanding expertise in object-oriented languages and development. He has considerable expertise in extreme programming with Agile methodologies and using formal processes for requirements management and software quality assurance.
---
Darren Jaeckel
Darren has more than 8 years' experience building and supporting all areas of modern web applications, including programming and data analysis, as well as data migration and data modeling. His career has enabled him to build and manage Solaris and Linux servers, configure and maintain various webservers (iPlanet, Jboss, Wildfly, and Weblogic) and databases (Oracle, PostgreSQL), as well as develop applications in Java, .NET, HTML, and JavaScript.
---
Our Partnerships
Wostmann & Associates provides services directly to federal, state and commercial clients. However, in some cases there is a need for specialized skills or knowledge to best serve the client. We are a firm believer in partnerships to provide more comprehensive services to clients while maintaining the agility of a small firm. We partner with firms in and out of Alaska with specific expertise who also share in our commitment to quality. At the same time, we remain independent from specific product solutions and will recommend what we believe to be the best fit for the client's system environment and organization.
Our longest-running partnership is with The Alaska IT Group, a joint-venture originally formed among a group of Alaska's leading technology service providers to offer more comprehensive services and scale to serve the needs of the State of Alaska. Today, this group includes Wostmann & Associates, Inc, PangoMedia, Network Business Systems (NBS) and Software North LLC. For several clients and projects we have partnered with Borderhawk for information security, and PeopleFirm for business transformation and change management.